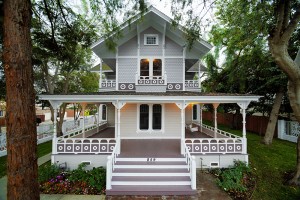 We're incredibly proud to announce that the Dodson House has been featured in the Press Telegram!  It was great discussing the features of this fine house, and all of the hard work Pemet Designs put into making those finishing touches. This Gingerbread Victorian home is one of the very few left in Southern California. If you go back East, you'll see quite a lot, but it's a true rarity here.
We kept the original charm of this Historic Monument, while bringing it into the 21st Century at the same time, making it more modern.  Certain things needed to replaced; the plumbing, electrical, air conditioning.  We also added a new driveway and landscaping as well. However, other original pieces were left, such as the doorknobs, and beautiful stained glass windows.  Another unique item, and conversation starter,  is the original three way fireplace.  This house has so much charm, and that's obvious from the first time you lay eyes on the outside.  We were very specific when choosing the type of exterior paint used, only using approved palettes by Sherwin-Williams specifically for Gingerbread Houses. The results are beautiful.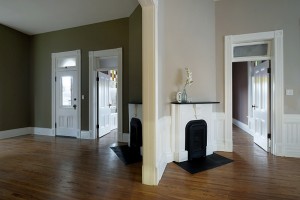 It's been our honor and pleasure here at Pemet Designs to work with Verono Investments; showcasing this amazing property, bringing the beauty back to the surface, while being respectful of the truly amazing history that has gone on behind these walls over the years. Please enjoy the article by clicking here. Thank you for reading, and we look forward to seeing you at the upcoming tours of this gorgeous property, open to the public for the first time, through December 15, 2013: 11am-4pm. For more information, please click here.